Halloween is right around the corner and that means it's time to call up the besties and get thinking about costumes that will be totally #squadghouls this Halloween. From A-game tv shows, movies, celebrities, trends, Tik-Tokers, and throwbacks these are the best Halloween costumes for friends this season.
Sometimes your friend group needs a little inspo before the big day, and we are here to ease the stress and bring on the inspiration that will surely help your besties look eerie-sistible this season.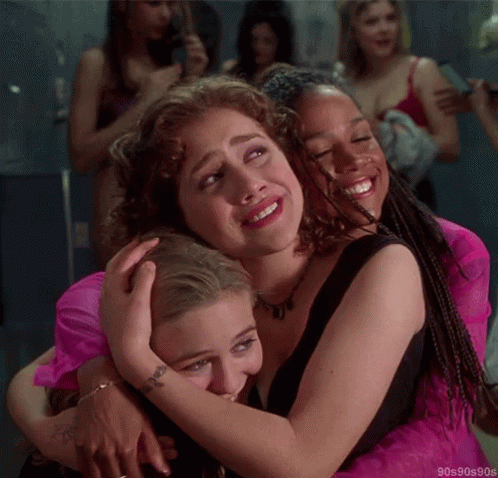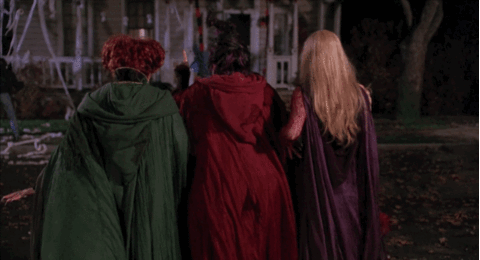 Here are the top Halloween costumes for best friends for Halloween 2021
1. SPICE GIRLS
Friendship lasts forever and so will everyone talking about this costume! Take a trip down memory lane and be the iconic British Spice Girls band. 
Channel your girl power and start looking through pics of all their iconic 90s red-carpet outfits. To make the look pop, here is some costume inspiration.
Sporty spice: Athletic and energetic. Try a cute ponytail with a scrunchie or two braids, keeping it simple and sporty. Find some cute low-rise bottoms and a crop top to complete the look. 
Baby spice: Young, cute, and sweet. Go for Baby's high pigtails and you can go even further with easy clip-in bangs. Add some tall boots and any pink dress and boom, you're #babyspice
Ginger spice: Fiery and bold. Try a hot red wig and go bigger by adding blonde clip-in highlights for some1990's chunky highlights to complete this look. With that red hair, an all-red outfit, and even a red boa, you will feel the Ginger spice fire! 
Posh spice: Shy, sassy & fashion-forward. Go for a sleek black dress and some 90s block heels or platforms! For the hair, try out short black Halloween wigs or straighten your natural hair for the costume.
Scary spice: Bold, loud, and never a dull moment! Go big and curly for Scary spice. Try mini curls with a small hair wand, or go for her iconic space buns. Pair it with a cheetah or shimmery gold outfit. 
Check out INH WIGS, PONIES, and HI-LITES to create these looks 
2. SQUID GAME
Squid Game has been all the talk and one of Netflix's most popular shows EVER. No surprise that it would also be a hot Halloween costume pick. If your squad is a fan of Squid Game and feeling bold this Halloween, go for it.
Players: Create the look with a green or teal matching jumpsuit, white t-shirt & white shoes. If you DIY it, number stickers or iron-on numbers to recreate the player's number. 
Guards: If you want to be a guard, find any dark-pink matching outfit and a mask to cover your face (quickly done with a black mask and white paint for the shapes). 
"Red light, green light" animatronic doll: Re-create the doll by wearing any yellow top and orange dress or skirt, white knee-high socks & black maryjanes. For the ultimate doll hairdo, put your hair in two pigtails or style some space buns. If you want to go all out, go for a short black or brown wig and some clip-in bangs.
Get creative with hairstyles for Squid Game costumes with INH wigs, bangs, and buns. 
Want to add a little more glam to it? Turn these looks into hot costumes with these dupes:
• Dresses, skirts, and biker shorts that are green or pink
• 
Black sunglasses instead of a mask for a guard with black baseball caps and white sharpie for the symbols and player numbers
• 
Makeup, nails, and black belts for accessories  
3. CLOVERS SQUAD
Image source: @lexiacarr Pinterest
 The 2000 film Bring It On, about cheerleading and comedy is a classic fan favorite- and the Clovers Squad is blowing up for Halloween 2021 best friend costumes. 
Bring it on this Halloween and cheer on your friends! This is a super cute Halloween costume that you and any number of friends can do. Add some Clovers spirit with yellow and orange accessories like headbands, bows, and headscarves! For the outfit, find a matching green top and skirt.
For the perfect cheer hair, try our Sharon, Cami, or Chloe to complete a Bring It On worthy hairstyle. 
Grab your heat protectant spray because hot tools are another way to create the Clovers waves. Try a Heat-waver or a curling wand for beachy waves.
 Image source: @Hitchedcouk Pinterest
4. CHEETAH GIRLS
Get ready because The Cheetah Girls are back in town!

This Halloween pull off the famous warm-up sets with the whole squad. Spend the night with your ride-or-dies, watch The Cheetah Girls, and start brewing up cheetah-licious quotes and outfits.
Complete the Halloween costumes with cheetah printed headbands and any purple, pink, blue, or orange velour sweatsuits. Spice up that hair with some crimped curls, waves, or a blow-out look with hot-tools!
Get Raven's perfect pony with Lola and maybe get your friends into the colorful clip-in HI-LITES  trend for more 2000s hairstyles.

5. POWERPUFF GIRLS 


Throw it back to the late 90s and unite your besties for the ultimate Powerpuff Girls Halloween costume! Decide which Powerpuff you are (Bubbles, Blossom, or Buttercup), and start working through your closet to create the Halloween costume...
But here's a little inspo to get ya going. 
Bubbles: Throw in some cute pigtails or high double braids, and use blue ponytails holders to add a little extra baby blue.
Blossom: Try a half-up, half-down hairstyle, and don't forget to add Blossom's statement red bow. You also can use a red wig to really go all out.
Buttercup: Make a statement with Buttercup's cute bangs using some clip-in bangs or a black wig with bangs. Finish the look with black nail polish and dark makeup. 
Add in some colored hair with reusable clip-in highlights! 
Looking for some more inspo for group Halloween costumes?
Here are some other group costumes trending right now:
• Heathers
• 
Going as your Zodiac signs 
• 
Don't be afraid to go more classic with a twist too: modern day Disney, zombies, and witches with your BFF's for Halloween 2021 
Doing Halloween Costumes with your best friends is arguably the best part of the season. Get creative, and try out some of these looks all together this season.

BUTTT the one thing that makes any Halloween costume stand out is the hair! This year, try some high-quality ponytails, wigs, buns, and bangs that you can wear ALL YEAR. Trust us, you won't regret it! 

Shop INSERT NAME HERE to make your hair come to life this Halloween.

Share all your group costumes with us @InsertNameHere on Insta! 💕🎃
Looking for more inspo? Check out our INH Blog for more Halloween costume ideas!